Turquoise Faux Jewelry
Presented by Liz Collectible Jewelry
An Online Worldwide Shopping Site
Genuine turquoise is great but the fashion looks in imitation, or faux, turquoise can be just as much fun and cost a lot less.
Enjoy wearing the great designs of American Native jewelry styles as interpreted by America's costume jewelry manufacturers.
Click Images for Enlargement and/or Description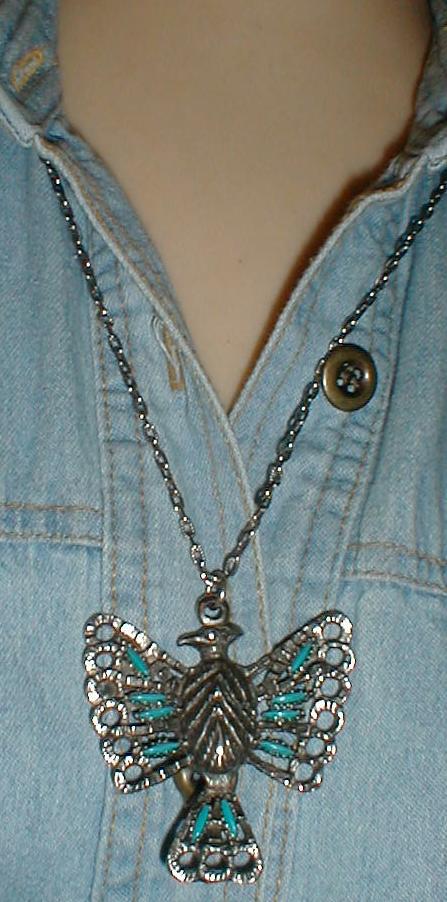 TUR10020
Mythical "Thunderbird" figure in cast silverplated metal has inserts of imitation turquoise on its wings. Earrings to match below, TUR10021.
Chain length to pendant: 24", springring
Pendant: 2" H x 2" W
$25.00
Big Hoops With F.Turquoise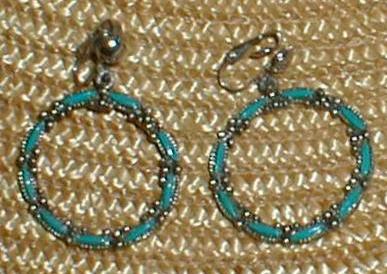 TUR10021
Big hoops drop from clips, 1 3/4" drop total. Matches Necklace TUR10020, above.
$15.00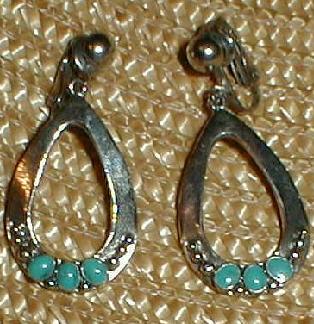 TUR10022
Drop earrings in silverplated metal have three bezel-set very realistic but still imitation turquoise stones highlights on each. Clip tops.
Size: 1 3/4" drop.
$15.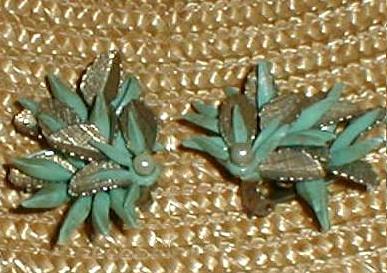 TUR10024
Fun semi-softic plastic petals and goldplated textured metal leaves, one imitation pearl at center. Riveted construction, wide clip back. From the 1950s.
Size: 1 1/4" approx.
$12.
Orders also may be emailed to Liz Collectible Jewelry for confirmation, payment methods and shipping information. Please note Style Code of your selections in your email. Personal Credit Card Service Also Available.