Turquoise Faux Jewelry
Presented by Liz Collectible Jewelry
An Online Worldwide Shopping Site
Genuine turquoise is great but the fashion looks in imitation, or faux, turquoise can be just as much fun and cost a lot less.
Enjoy wearing the great designs of American Native jewelry styles as interpreted by America's costume jewelry manufacturers.
Click Images for Enlargement and/or Description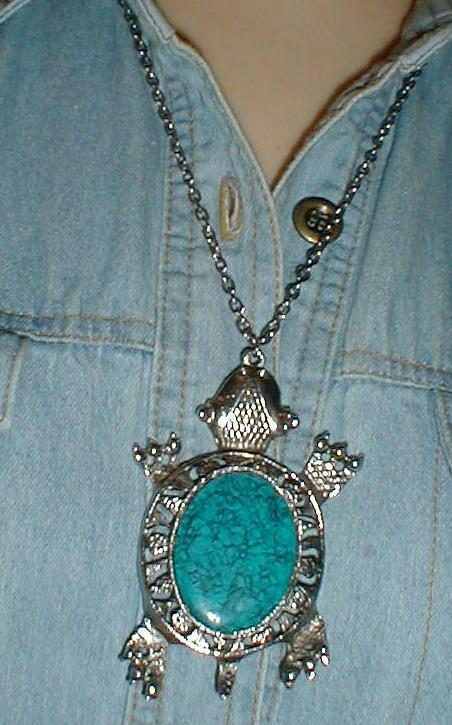 TUR10016
The turtle is a sacred animal in American Native traditions, believed to bring good luck.
Thick silverplated pierced cast, great marbleized pattern plastic faux turquoise center.
Pendant: 3 1/2" H x 2 1/4" W. Chain: 24" L.
$20.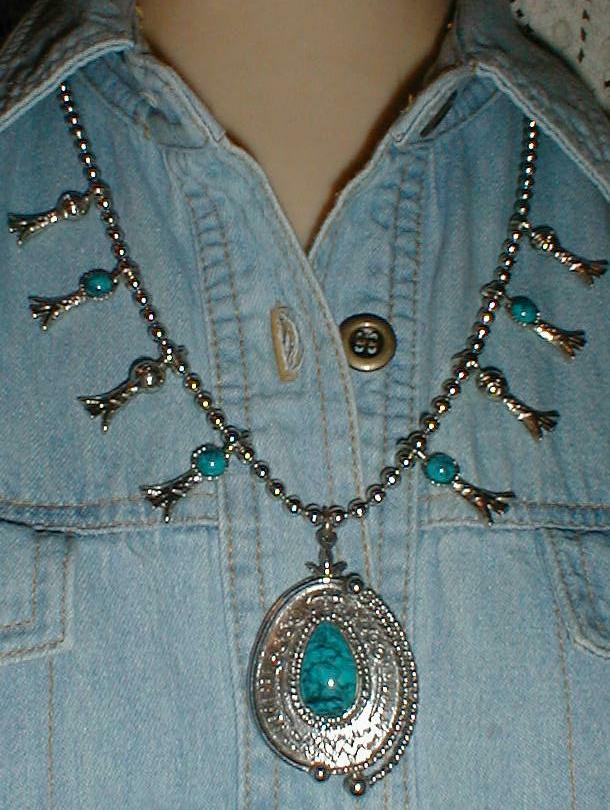 TUR10017
The Squash Blossom is a classic Navajo design, here with an oval pendant.
Cast silverplated pendant with domed plastic faux turquoise teardrop center, cast blossom accents on silverplated brass beads. Marked ART.
Pendant: 2 1/4" H x 1 1/2" W. Necklace: 24"+
$35.
TUR10025
Oval pendant of imitation silver with incised star pattern, border, center imit. turquoise in plastic stone, beaded tassels. Barrel beads in turquoise plastic, spaced with black heart-shape plastic beads strung on leather thongs.
Neck length to pendant: 30"+, adjustable at neckline.
Pendant: 1 3/4" H x 1 1/4" W
$20.00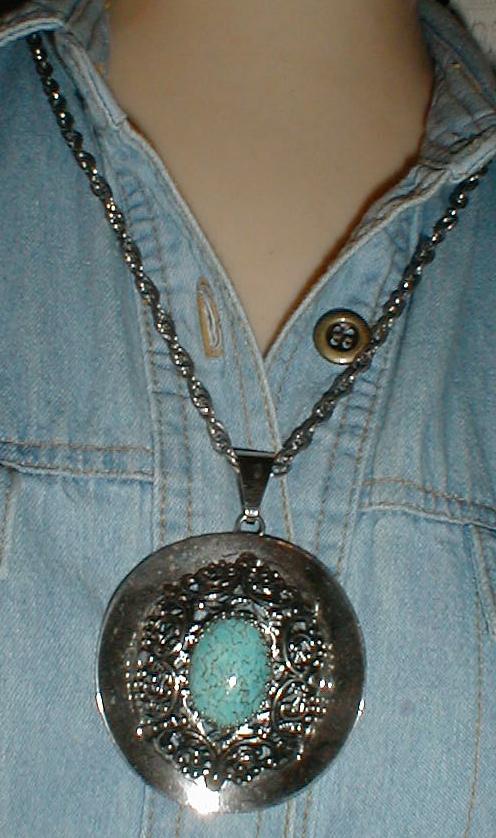 TUR10018
Large oval pendant is curved in shape, silverplated metal in double filigree overlays surrounding oval glass fake turquoise stone in very fine imitation of the real thing set in teethed frame.
Chain length to pendant: 24" plus 1/2" bail, springring
Pendant: 1 3/4" H x 1 1/4" W, imit. turquoise glass stone: 1" H x 5/8" W
$20.00
Orders also may be emailed to Liz Collectible Jewelry for confirmation, payment methods and shipping information. Please note Style Code of your selections in your email. Personal Credit Card Service Also Available.