Liz's Vintage Silver Flatware Online Shop
SPECIAL OFFER

EMBOSSED 1882 Pears Pattern, by 1847 Rogers

Steak Carving Knife, Fork, Sharpening Rod

Pears and Leaves, Silver Plated Solid Handles

Click images for large view in new window.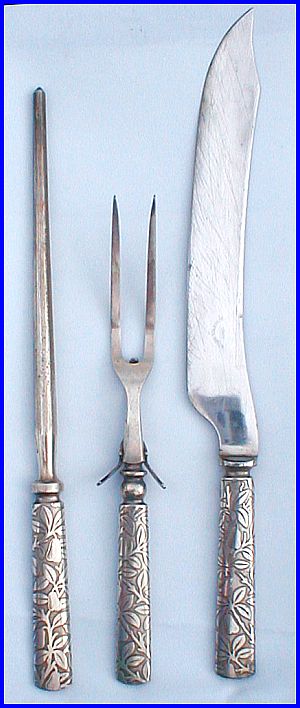 EMBOSSED 1882 by 1847 Rogers

3 pieces Steak Carving Set

Knife 14 3/8"
Fork 10 1/4"
Sharpening Rod 13"




Solid metal handles with embossed (raised) pears and leaves design.

Fork with movable guard

Steel blade stamped 1847 ROGERS BROS.


This set was made anywhere from the year 1882 until production ceased in the early part of the 20th century.

It is part of the multi-motif floral pattern series EMBOSSED by Rogers Bros. considered rare in today's market.


*$60.00/Set

EMBOSSED1882-CARVSET

SOLD








*The steel blade has garnered some scratches within the past 130 years or so but is still very sharp. Reg. $75.00.

Liz Vintage Silver Flatware Inventory & Shopping Information

Liz Collectible Jewelry HOME