About Liz's Silver:
All silver is vintage and in good to excellent vintage condition and perfectly serviceable for its intended use. Liz's competitive prices do not reflect a lowered quality in silverware condition. Liz sells only gently used ware that she herself would be proud to serve her guests. All ware is shipped to you polished, ready to use. One exception: Never-used sets are shipped unpolished to preserve original patina. When you buy this ware you'll be the first to shine and use it. All images are of the actual pieces offered, not stock photos. The photography may not be up to professional standards but Liz strives to represent every piece fairly by the means available to her. Flaws are documented in the descriptions. Should some flaws be missed they will be noted and you will be advised.

Please Note: There are no monograms on Liz's silver except where especially noted.

A Note About The Years Shown on The Individual Patterns:

The year number following the pattern name is the First Year of Production, or Introduction Year of that pattern. It is not necessarily the year in which the pieces offered for sale were made. They could have been made in any year during the production run of this pattern. Almost all patterns Liz offers are now discontinued, therefore they are considered vintage. If the exact year of discontinuation is known to Liz, it is so noted. If a pattern is still produced, as with the Swedish pattern Franska Liljan, f.ex., it is also noted.

Liz offers only vintage silver flatware made in the United States, Canada, Australia, Europe, Japan, but not China and no modern reproductions of vintage styles.



Selling Your Silverware?

If you have silver plate flatware that you don't need, Liz might want to buy it. It must be in such good condition that you yourself would dine and serve with it, without monograms, inscriptions or silver loss. As a rule, Liz will only buy larger quantity services, not individual odd pieces or mixed pattern lots, and only vintage silver patterns made in the U.S., Canada, Europe, Japan and Australia but not from China. Please have your pattern name, piece count, and also asking price ready when contacting Liz as she does not make offers. Evaluations or appraisals are not made as doing so is a conflict of interest.

Before you contact Liz about your silver plate flatware, please take a moment to read this brief article courtesy Nancy Gluck's blog Silver Threads:

What Is My Silver Worth?

It explains what you need to do to sell your silverware. If you wish to sell your silverware after reading this article, contact Liz by email or phone.
Shipping & Shopping Information:
Shipping costs to the continental United States for silver flatware is now a flat charge of $7.00, with a few exceptions noted in the descriptions. To international destinations the shipping charge is $17.00. The shipping charge is added in the PayPal Shopping Cart Checkout.

As of January 17, 2016 shipping charges were changed due to the increased postal rates.

Shipment is made on the next business day after payment has been made, by U.S. Postal Service First Class or Priority Mail with Tracking and/or Insured. You will be advised by email of the Tracking Number so you can follow it at the USPS website. Storage chests will be shipped by Parcel Post within the U.S. and by First Class or International Priority Mail outside the U.S., including to Canada. Should the weight of the package incur a higher shipping cost than $17.00 to your country you will be advised to decide then how you want to proceed. If the actual shipping cost is less than $17.00 by at least $6.00, the difference is refunded in your PayPal account. Liz does not charge for Tracking or Insurance if shipped within the U.S. Except if your country is on a list where the United States Government cautions against shipping without Registry or Insurance, you may be asked to add the cost for this service to your order payment.

Customers outside the continental U.S. Please check with Liz for how to ship best way to you.
Payment & Return Policy:
The PayPal Shopping Cart: Please use it as shown on every shopping page for ease of ordering.

If you don't have a PayPal account you can still use the PayPal Shopping Cart buttons for credit card payment. However, if you prefer to use your credit card directly VISA and MasterCard convenience is available to residents of the U.S. and Canada. Minimum purchase amount with VISA and MasterCard is $20.00 not including shipping charge.

Credit card orders are handled exclusively by phone to Liz, 8:30 a.m. to 5:30 p.m. Eastern U.S. Time, Monday through Saturday. Currently accepted are VISA and MasterCard, none other. All pieces are returnable for full refund less any shipping charges. Returns are approved after email notification upon receipt. Returns must be shipped back within five (5) business days of receipt or return privilege is void.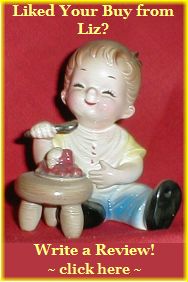 Opens in new window.