Liz's Vintage Silver Flatware Online Shop
SPECIAL OFFER

H.R. Morss
Carving Knife and Fork Set
Sterling Handles
Click images for large view.
MORSSET1




Knife 10 1/8"
Fork 8 3/4"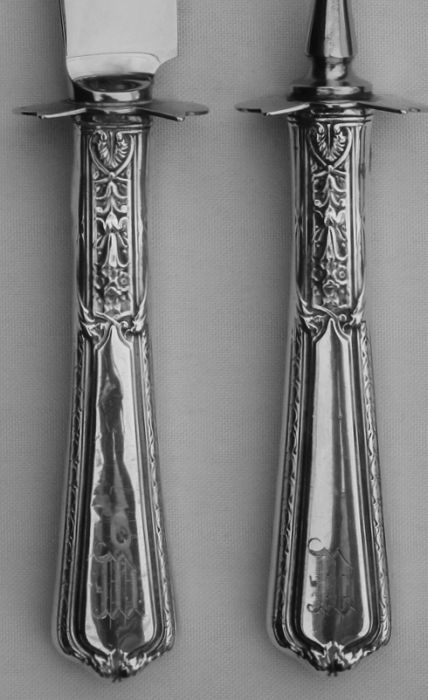 Closeup of Handles
with Engraved AE on reverse

Sterling Hollow Handles with Guards

Blade stamped:
REED&BARTON *MIRRORSTELE HI-C

Fork stamped:
REED&BARTON MIRRORSTELE

Manufacturer mark of H.R. Morss
Who Are They? Courtesy 925-1000.com

STERLING stamp on both handles under the guards.


About this set:

It appears that the original knife blade and fork tines were replaced sometime in the past with new stainless parts by REED & BARTON.

The handles are vintage, have a few tiny nicks in them, but blade and tines appear practically unused.

A previous owner who was fond of this engraved set may have had this replacement executed, probably at a considerably higher cost than today's price for the set.

This pattern has not been identified as records of H.R. Morss' patterns are limited and it was not found in them. It is in the style of some classic LOUIS XVI patterns and similar to Reed & Barton's sterling pattern HERITAGE, issued in 1924.

$70.00/Set
Available: 1 Set

*MIRRORSTELE is a Reed & Barton registered mark for Stainless Steel on its products.

Liz Vintage Silver Flatware Inventory & Shopping Information

Liz Collectible Jewelry HOME