Liz's Vintage Silver Flatware Online Shop
Special

Chalice a.k.a. Harmony a.k.a. Jasmine a.k.a. Rendezvous
By Oneida USA ~ 1958

5-piece Place Settings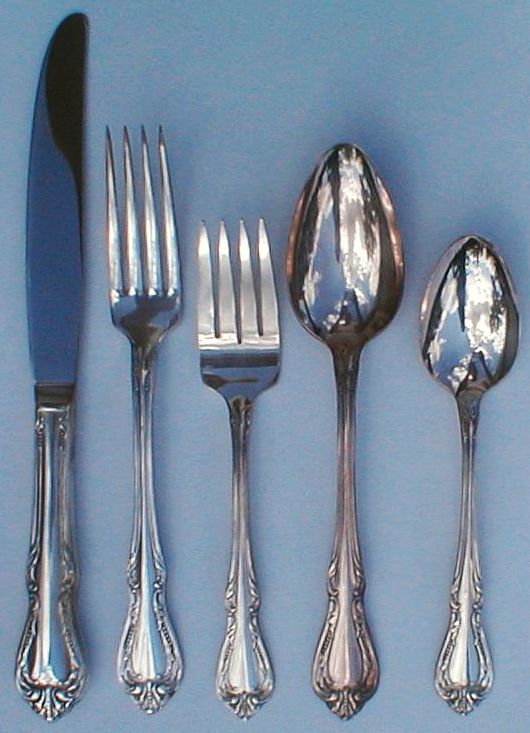 Chalice a.k.a. Harmony a.k.a. Jasmine a.k.a. Rendezvous
1958
Silverplated Flatware by Oneida USA

Click image to enlarge.

5-piece Place Setting:

1 Modern Dinner Knife, 9"
Hollow Handle, Stainless Blade
1 Dinner Fork, 7 3/8"
1 Salad or Dessert Fork, 6 1/4"
1 Oval Soup or Dessert Spoon, 7 1/8"
1 Teaspoon, 6"
This pattern was issued by ONEIDA under four different names over the years: Chalice, Harmony, Jasmine, and Rendezvous. The exact years when each new name was used is not known. Rendezvous was marketed as redeemable for coupons (called cards) issued by various participating merchants, see an advertisement here.

The pieces in this offering are called Chalice on the boxes, and are new old stock, meaning uncirculated, never used. They have very little oxidation and will be shipped unpolished to preserve original patina and to avoid any accidental scratches. Each set as described by ONEIDA will also be shipped in its original manufacturer box with original wrapping, guarantee and inspection slip. Please note that this guarantee is not valid now, as Oneida no longer manufactures silver plate flatware in the U.S. It is only included for its historical provenance value.


Special Price:

$30.00

for One 5-piece Place Setting.

Compare here with used styles.

Available:

Only 3 (THREE) 5-piece Place Settings Left!





Did you want just individual pieces?

Vintage stock in this pattern is also available:

Chalice aka Harmony aka Jasmine aka Rendezvous Inventory


Have questions? Email or call Liz!




Liz Vintage Silver Flatware Inventory & Shopping Information

Liz Collectible Jewelry HOME