Liz's Vintage Silver Flatware Online Shop
Special

Danish Princess 1938

by Holmes & Edwards, International Silver Co. USA

Eight 8-piece Place Settings Dinner Service +
9 pieces Hostess Serving Set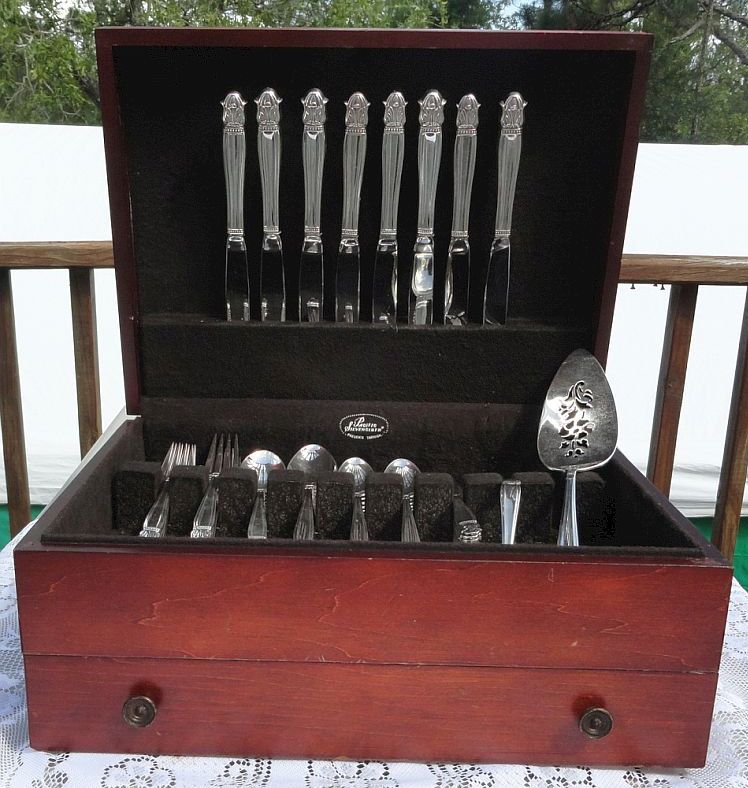 Danish Princess1938
Silverplated Flatware

Click images to enlarge in new window
The pieces in this offering are new old stock, uncirculated, never used. They have practically no oxidation and will be shipped without any additional polishing to preserve original patina in its original anti-tarnish Pacific Silver Cloth lined mahogany finish wood storage chest with drawer.
Eight 8-piece Place Settings:
$450.00
Available: 1 Service +
1 9-piece Hostess Serving Set Included:


1 Table/Serving Spoon, solid, 8 5/8"
1 Table/Serving Spoon, pierced bowl, 8 5/8"
1 Gravy Ladle, 6 1/8"
1 Casserole Spoon, 9 1/8"
1 Cold Meat Fork, 9 1/8"
1 Master Butter Knife, 6 3/4"
1 Sugar Spoon, 6 1/8"
1 Cake/Pie Server, 10 3/4"
1 Jelly Server, 6 1/2"
Approx. $130.00 if bought individually.
DANISH PRINCESS Dinner SERVICE for 8 with Hostess Set:
Please note that the standard U.S. shipping charge included in the PayPal Shopping Cart checkout applies to this offering and should be considered an additional bonus. Outside the U.S. individual international shipping charges apply [scroll to For Customers Outside the United States] and will be quoted at time of order.
Use the Add to Cart buttons to select your styles, enter number of pieces and Update in the Shopping Cart summary at any time.

You can shop on the same or multiple pages on the site to add to the Shopping Cart, then View Cart and proceed to Check Out.

Credit card convenience is now available through the Shopping Cart courtesy PayPal without a prior PayPal account.

If you have questions or would like to discuss or place your order in person and want Liz to issue a custom Invoice to you through PayPal do email or call Liz.

Did you want just individual pieces?


Vintage open stock in this pattern is also available:



Danish Princess 1938 Inventory


More Info atLiz Vintage Silver Flatware Inventory & Shopping Information

Liz Vintage Silver Flatware Inventory & Shopping Information

Liz Collectible Jewelry HOME